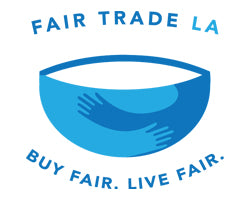 Multiplying Global Impact
Invest in the Future NOW.
BIG NEWS! We're excited to officially announce that Fair Trade LA has been invited to join as a Working Group Member of the Community Business and Procurement Committee of the LA28 Olympics and Paralympic games!
What does that mean? We have a seat at the table.
If you haven't heard, the Olympic Games are coming to Los Angeles in 2028! Fair Trade LA is part of the Working Groups that help advise and support the planning of the impact and sustainability framework for procurement of goods for the LA28 Olympic and Paralympic Games. We will be offering our expertise and sharing the importance of using Fair Trade products where possible - educating on one of the biggest international platforms!
Work begins now.
The Working Groups are meeting quarterly and we are joining the early discussions on how to measure impact. Now is the time to add fair trade into this conversation to make it a priority for the Olympic planning committee.
Invest in the future NOW.
Will you help us drive the efforts to bring fair trade to the LA28 Olympic Games? With your support, we can advocate for ethical companies, brands, farmers, artisans, and producers to become part of the supply chain for the biggest sporting event in the world!
Invest in Content that Matters.
When you invest in Fair Trade LA, you are giving a voice to the farmers, artisans, producers, and factory workers, who are behind the things we buy every day.
In March 2022, we officially launched our FAIR Talks Podcast, with the mission of educating everyday people for extraordinary change. Our goal is to make free quality education about fair trade accessible worldwide - using media for good. We're having conversations to raise awareness about global issues, ranging from human trafficking to gender equality and poverty alleviation.
As of May 2023, we have aired three seasons, 23 episodes, with over 6.8K downloads and listeners from over 52 countries! Our top ten countries besides the United States include Canada, Japan, Haiti, Germany, UK, India, Italy, South Korea, Hungary, and Ecuador!
Invest in Your Community.
Community matters.
There is a new epidemic of loneliness in the United States.
We need each other.
The reality is most cities don't have a fair trade community like we do. It takes dedicated volunteers, consistent funding, and many hours of hard work to keep an organization like Fair Trade LA going. From organizing educational community events, to supporting fair trade artisans globally, we are proud to exist as a local nonprofit that fosters community here in Los Angeles.
"I have personally seen my mom empower hundreds of people with jobs in China, and witnessed them building homes and sending their children to university! This is why I am passionate about fair trade jobs to support mothers and fathers around the world. It is crucial that Fair Trade LA exists to be the voice to advocate for the over 700 million people still living in extreme poverty around the world today. Our work is far from finished. But we must do it together. There is power in community." - Elisha Chan, Executive Director, Fair Trade LA
. . .
Help us meet our annual fundraising goal of $30,000 to ensure Fair Trade LA continues to exist and grow our impact here in Los Angeles!
Make a one-time contribution or become a monthly supporter of Fair Trade LA today.
Let's change the world together!
. . .
Fair Trade LA is a 501(c)(3) community-based educational nonprofit on a mission to educate and inspire consumers to embrace Fair Trade products so global farmers and artisans have the opportunity to earn a fair and sustainable living.
*Your contribution will be tax-deductible.
Questions? Contact us at fairtradela@gmail.com